What's in a Beer?
"Experienced native pub-goers obey the unspoken rules, but without being conscious of doing so. Regulars will mutter and grumble when an uninitiated tourist commits a breach of pub etiquette, but may well be unable to tell him exactly what rule he has broken."
– From the Brewers and Licensed Retailers Association's 1996 publication, Passport to the Pub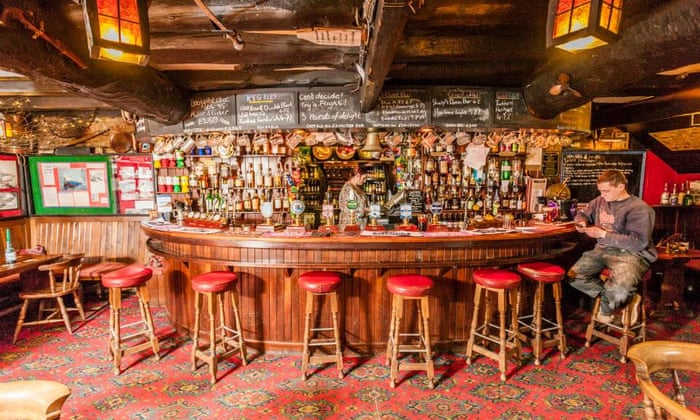 One thing many visitors get wrong upon entering a pub, is sitting down at a table immediately. Unfortunately you'll find yourself thirsty if you do this as pubs do not wait on tables for drinks.
You may also go thirsty and not get what you expect if you simply order a 'beer'! Outside of Britain a 'beer' refers to a 'lager', but here 'beer' is an umbrella term that can include lagers (light beer), ales (dark beer), bittters (light ale), stouts (very dark beer), pale ales, IPAs, wheat beers… there's lots!
With thousands of micro and local breweries, many pubs have an incredible amount of choice! You're welcome to ask to try a couple of different 'tasters' before choosing you're pint. Our recommendation would be to try something local!
What measurement is a pint?
Once you've chosen you'll be served you're drink as a pint. At just over half a litre this can seem a lot, be prepared! You can of course ask for a half instead.
A Guide To Tipping in the UK
British tipping culture is somewhat different to America. Pub etiquette dictates that it not expected of you to tip the bartender, though you may spot s tips jar to through a few coins in. One way to tip if you are getting a round in (buying a round of drinks for your table) is to say 'and one for yourself', to buy the barmaid or barman a drink! In restaurants it's slightly different, you can tip 15% though we would not often tip that much, aiming nearer to 10% instead (if the service was good!)
Cycling to a Pub
What could be more British than a good old pub? The village pub is the neighbourhood's living room, treated as a second home, where locals unwind and 'put the world to rights' over a nice cold beer.
Many of our cycle rides finish the day's riding through the beautiful countryside to find a nice cold ale in a local country pub. As part of our guide to the real Britain, to help you feel as at home as the regulars, we've put together a quick introduction and guide to Great British Pubs.

With around 60,000 pubs in Britain, pubs often are the centre of the community and a central part of British culture. As the Passport to the Pub says "If you haven't been to a pub, you haven't seen Britain."
It's worth mentioning here that as you are entering the village living room, you are under no obligation to order anything alcoholic. Asking for a coffee or a Coke will not bar any eyelids!
British pubs have been at the heart of village life for centuries. And this is certainly true of Cotswold pubs! There were once so many that in the year 965 King Edgar decreed there should be no more than one alehouse per village!
British Pub Names
Pubs have to be clearly signed as a licensed seller of alcohol, even today, so that historically inspectors who could check the quality of their ale. William Shakespeare's father was actually an ale inspector, among his many other jobs! This is why we have so many brilliant pub names. The Red Lion is the most common of all pub names. Thought to be from when James VI of Scotland became James I of England and insisted that public buildings display the Scottish royal coat of arms – the 'Lion Rampant'.
Many have Royal links, with 'The Crown' and 'The King's Arms' being popular also. Historic events too come into play. The Mayflower in Plymouth, takes its name from the ship that started its journey from London's docks in 1620, taking the first English pilgrims to America.
What Does a Free House Mean?
The sign 'Free House' hanging outside a pub however, does not mean that the beer is free! Instead it means that the establishment is not partnered with one brewery and can serve and sell beers from anywhere and everywhere.
We hope this helps! For more ideas on which great pubs in the Cotswolds to walk, cycle or even paddle to, check out our blog – Our Top 5 Cotswold Pubs and How to Bike, Hike and SUP to them. On all of our tours, we aim to stop for coffee, cake, lunch, drinks or dinner in beautiful Cotswold, Cornish, or Northern pubs, each with their own great atmosphere and great selection of local ales! Check out our cycling and walking tours for more inspiration!