VISITING STRATFORD'S TUDOR BUILDINGS
As part of our 6-day Cotswolds self-guided cycle tour, you can take in the sights of Stratford-upon-Avon, visiting some of the historic houses of Shakespeare and his family – from his Birthplace to his burial place and Anne Hathaway's House. We can even take in a matinee or evening performance by the Royal Shakespeare Company – what better place to see Hamlet or Macbeth than in Shakespeare's hometown?
Shakespeare's Birthplace
Stratford-upon-Avon is most famous for being the birthplace of William Shakespeare, and the house where William was born in 1564 remained in the Shakespeare family until 1806. Be sure to visit this incredible cottage and chat to the tour guides stationed in each room for the details of the great bard's family home. Hear tales of Shakespeare's family life and get up close to rare objects from the Trust's world class collections as you discover how the extraordinary William Shakespeare continues to shape our lives today. The jewel in the collection, Ticket Costs to Shakespeare's Birthplace are:
Adult: £13.00                
Child: £9.00                 
Family: £35.00 (up to 2 adults and 3 children) 
The Shakespeare Collection
Other members of the Shakespeare family have houses dotted around the city, such as Nash's House (inherited by Shakespeare's daughter Susanna), and of course, his wife Anne Hathaway's family home about a mile North of the city. It is possible to buy one ticket to see all of these houses, alongside Mary Arden's farm for a full day out exploring Stratford.
Shakespeare's Burial place is also open to visitors, for a small donation, in the Church of the Holy Trinity. His gravestone bears an epitaph which Shakespeare himself supposedly wrote. It warns:
Good friend for Jesus sake forbeare,
To dig the dust enclosed here.
Blessed be the man that spares these stones,
And cursed be he that moves my bones.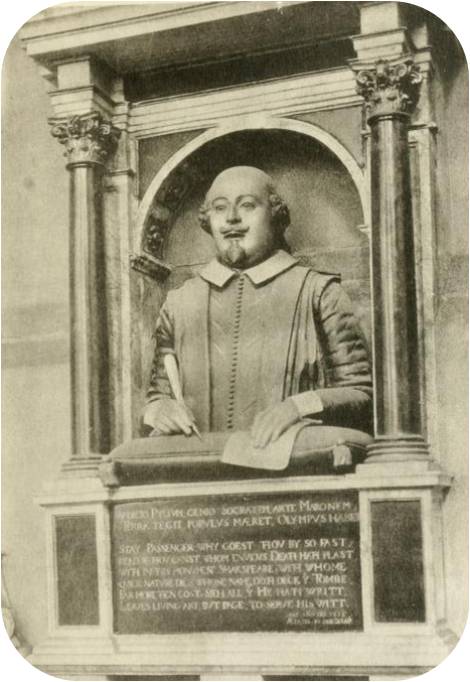 The Harvard Building in Stratford Upon Avon
Harvard House, to the right of the Garrick Inn (an impressive 14th Century Inn!) was the home of John Harvard's (the founder of Harvard University) mother, Katherine Rogers. Harvard University, through a British trust, administered the property until 1990 when the Shakespeare's Birthplace Trust assumed responsibility for it.
Half-Timbering, Shakespeare, and Ye Olde Inns
The most notable architecture in Stratford-upon-Avon is half-timber work, where buildings have an exposed wooden framework, with the rest typically filled with brick, plaster or wattle-and-daub.
Half-timbered houses often have an overhanging upper storey, which added vital space but was also a structural device. It was common courtesy in England for the man to walk on the outer side of the pavement (where there was one), where he was most likely to be splashed by the contents of chamber pots emptied from above.
Please Check the Shakespeare's Birthplace Trust for updates about opening times and access during COVID.
Can I cycle into Stratford?
Yes! There is a beautiful rail-to-trail cycle track that runs alongside the River Avon from the South and directly into Stratford – in fact it leads you straight to the Church of the Holy Trinity where Shakespeare is buried! Take a look at the Stratford Greenway for more information about this traffic-free route.
Can I see a Shakespeare Play in Stratford?
Yes! There are multiple plays running at the Royal Shakespeare Company (RSC), with afternoon and evening performances as well as tours and more! Take a look at the RSC website for more information on which plays are performing and to book tickets.